Bougie Hot Chocolate
LAST CHANCE
Limited Edition Fall Scent

Bougie Hot Chocolate, is just extra all the way around. Nothing about this candle is ordinary. Every other hot chocolate wishes it could smell this delicious. With a complex layered aroma of chocolate truffles, cinnamon, caramel, and vanilla, you will be tempted to go in for a taste...but please don't. Nose tastes only!
Customer Reviews
12/16/2020
Shawn M.
United States
Love it!
I bought this candle twice now. It smells divine!
12/16/2020
Alexis M.
United States
I really like it!!
I love chocolate, but personally for me the scent of chocolate is too strong. It is a gorgeous candle, but the scent is a little too much for me and I would recommend this candle to someone who really loves strong chocolatey smells. I have found out that if I put it in a bigger room though, the scent disperses more evenly and is not as strong! I would not repurchase this specific candle but I will still be buying from this brand of course! Shipping was fast and everything was well packaged ❤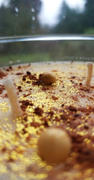 10/13/2020
Jessy G.
United States
10/12/2020
Jenice T.
United States
Makes me Hungry
Lovely chocolate scent. Will defiantly make you hungry. Surprisingly not sickly sweet smelling. Will definitely be purchasing this candle again.
10/05/2020
Tanesha M.
United States
Favorite Scent
Def my favorite candle Ever